STORY BEHIND THE WALLS
Whether you're just starting out or you're a seasoned pro, come join us in exploring new moves and sharing our passion for climbing.
Our goal was to create bouldering walls that embody the modern style of climbing.
We've meticulously prepared four walls with a unique, custom setup of holds, each with its own identity and climbing experience. From thebalance-centric slab wall to the 35-degree wall that will drain even the most seasoned climbers, our walls offer a range of challenges. Preparing these walls was a challenging adventure.
The Gneis Wall is specially developed by some of the most skilled professionals in their respective fields. The
climbing holds are produced by Cheeta led by Laurent Laporte. Laurent Laporte is a highly experienced French
route setter and hold maker with over 30 years of experience in the industry. He is known as one of the first
international route setters and has invented movement sequences such as "The Clock" and screw-on holds.
Adam Pustelnik is the head of route setting for the Gneis Wall, known for his expertise and extensive experience in
designing challenging routes. He was the Chief Routesetter for Lead at the Tokyo 2020 Olympics and is a prominent figure in the climbing world.
COMPARISON OF CLIMBING WALL CONCEPTS
GNEIS CLIMBING WALL
TRADITIONAL LED CLIMBING WALL
TYPICAL BOULDERING WALL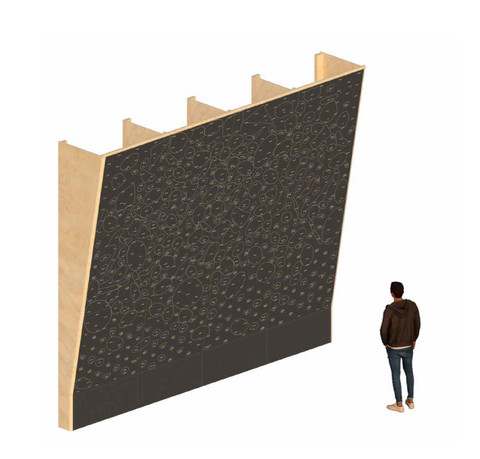 Climbing wall for climbers of every level
Big variesty of hold types and sizes: from small to large, crimps, slopers, pockets, it has it all
No local routesetting needed
Training tool for advanced climbers
Hold shapes are very neutral
Wall angles can be selected
All holds have more or less the same size
Holds placed in a grid
Limited size of the wall 2,4-3,6m wide
Ca 5 holds per m2
5-7 different climbs on each section of the wall
Periodic routesetting necessary
Good climbing experience requires good internal
Route setting competences
Allows for biggest flexibility but also requires the most care
The 4 DIFFERENT GNEIS WALLS
-3° WALL
10° WALL
20° WALL
35° WALL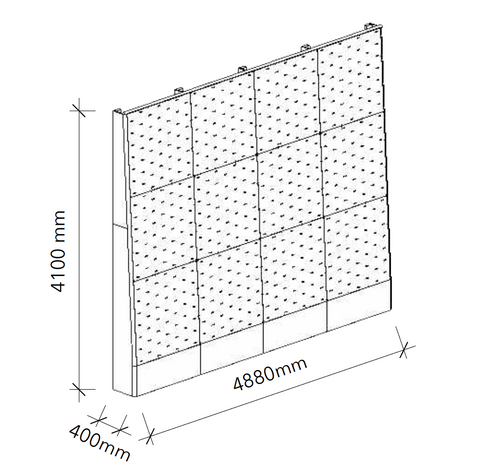 3° WALL
626 holds, 17.28m2, 36.2 holds per m2
Easiest wall on offer
Best suited for beginners
Training balance
Technical climbing
Learn how to use feet
697 holds, 17.57m2, 39.67 holds per m2
Most versatile wall on offer
Best suited for beginners and intermediate climbers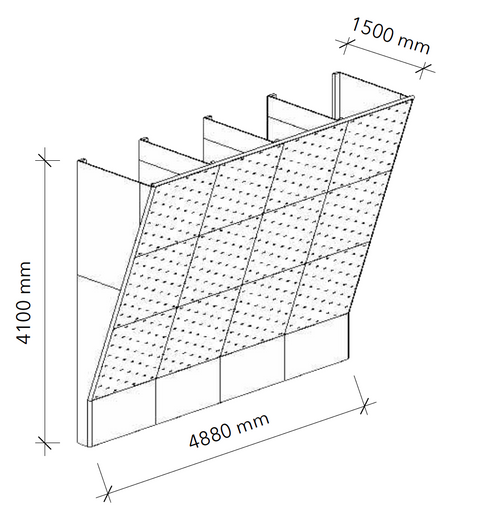 633 holds, 17.85m2, 35.46 holds per m2
Best suited for intermediate climbers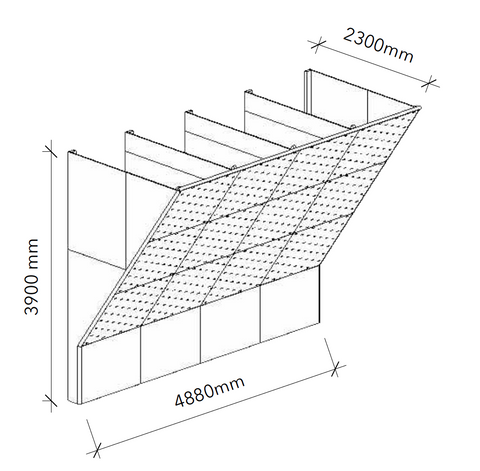 611 holds, 18.15m2, 33.66 holds per m2
Most physically demanding climbing wall on offer
Best suited for advanced climbers
GNEIS WALLS
GNEIS WALL PACKAGE INCLUDES
HOLDS: 611-697 pieces, depends on the angle of the climbing wall
CLIMBING PANELS: 12 plywood panels with T-nuts, LED grid and printed hold outlines, dark grey
KICKBOARD: 4 plywood panels with the same color as the climbing panels
CONSTRUCTION DRAWINGS: set of drawings for the load bearing structure
USER MANUAL: description for the electrical set-up, hold mounting, etc.
LEDs: 1200 diods connected together, includs a control unit with a bluetooth and Wifi modules
APP: Android and iOS compatible application that controls the LED lights
DATABASE OF CLIMBS: access to online database with hundreds of different climbs
TABLET: 1 pc. that can be wall mounted by the climbing wall, used for controlling the climbing wall
NET PRICE: 27.000 EURO per wall
Contact us for inquiries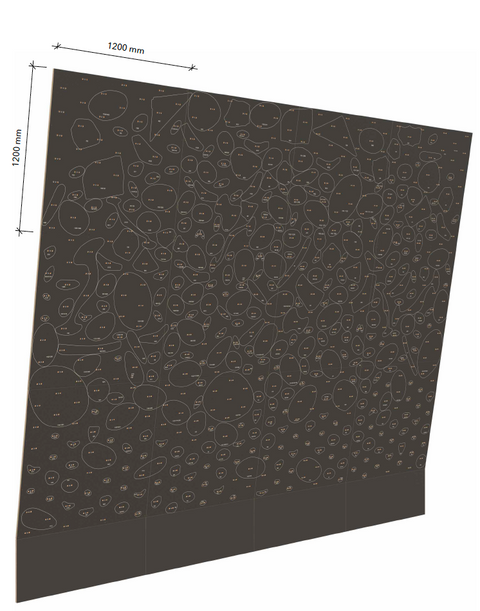 SETTING UP THE WALLS
The bouldering wall consists of 12 (1210x1210mm) panels and 4 kickboard panels with pre-drilled T-nut grid and LED lights. Climbing hold outlines on panels indicate position and rotation, while unique numbers on holds and panels ensure proper placement. Hold-on-hold system utilizes multiple numbers in outlines. All walls are 4x3 plates with varying fallzone dimensions. IKEA-style drawings guide frame construction using locally sourced components, reducing shipping. Matting can be obtained from local suppliers.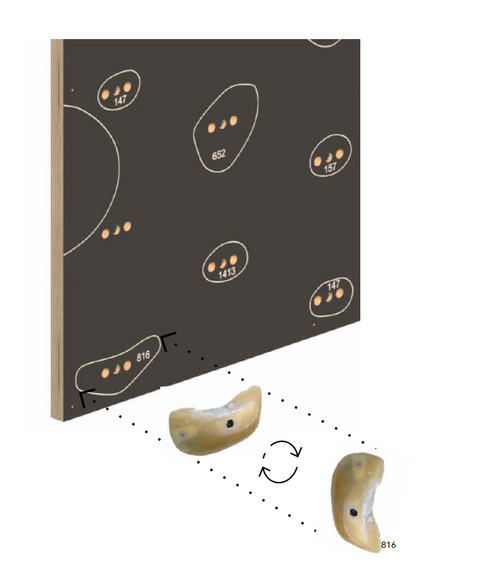 1. Assemble the climbing wall out of the 12 panels + kickboards
2. Select a hold with a matching number
3. Rotate the hold until the hold outline and the drawing on the board match
4. Attach the hold with M10 bolt
5. Secure the hold with a wood screw to prevent spinning
6. repeat 611 to 697 times
7. Insert LED light from the back of the climbing wall
while following the manual
8. Turn on the app, connect and climb!